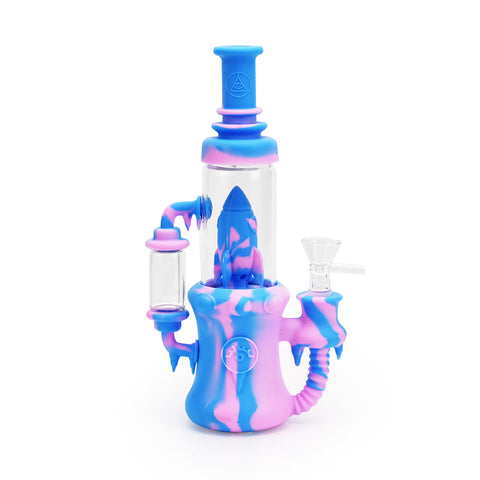 Ritual - 8.5'' Silicone Rocket Recycler - Cotton Candy
Ritual - Stay Elevated!

Ritual's  8.5'' Rocket Recycler will take you to the outer reaches of space and time! This unique recycler features our signature rocket ship perc and true recycling action.  This is a recycler that's perfectly suited for use with both dried herbs and concentrates. The durable silicone is virtually indestructible, so much so that we guarantee the silicone parts of each of our Ritual Silicone pipes. The unique air path and function really delivers an out of this world experience!!! At Ritual, we stay elevated! 
Features
Platinum Cured Silicone

Designed in USA - Made in China

Real Borosilicate Bowl & Downstem

Designed to work great with herbs or concentrates!

8.5" Tall

Easy to Clean

Travel Friendly & Durable AF

Limited Lifetime Warranty (On Silicone)
 Specs

8.5" Tall

Rocket Perc + Recycler = Sick Function!

Comes with Borosilicate Bowl 14mm

Platinum Cured Silicone