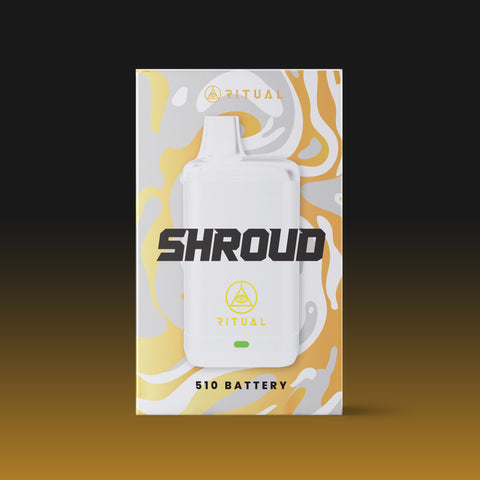 Ritual - Shroud 510 Variable Voltage Concealed Battery - White
Ritual Shroud 510 Battery
The Shroud is a premium variable voltage 510 battery that is made to exacting specifications for the best experience with 510 cartridges of all types and styles. The Shroud boasts 3 perfectly tuned voltage settings that are designed to deliver the best flavor to vapor ratio of any battery on the market. These batteries conceal you cartridge and look like a bar/box style disposable e-cig, which makes Shroud the perfect choice for those looking to keep it stealthy and discreet. Although it's stealthy and small, it can fit carts up to 2g in size, so dab it up!

Temp Settings
Green - More Flavor, Less Vapor
Yellow - Perfectly Balanced Flavor & Vapor
Red - Less Flavor, More Vapor
Conceal style variable voltage 510 battery
Fits up to 2g cartridges 
USB-C Charging Cable Included - Charges in 20-30 min!
Sesh Mode/Pre-Heat
3 Voltage Settings (Green 2.8v, Yellow 3.4v, Red 3.8v)
Optimized airflow for thick, milky rips!
1 year warranty!