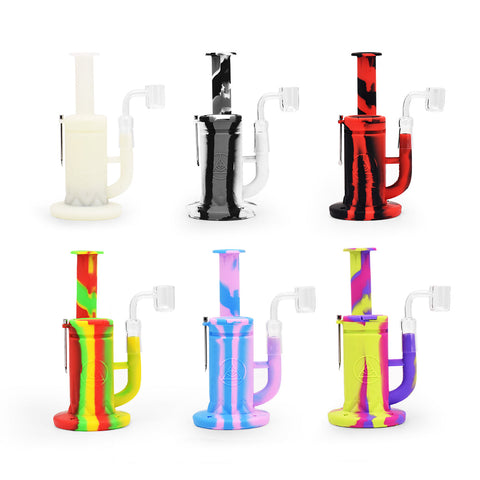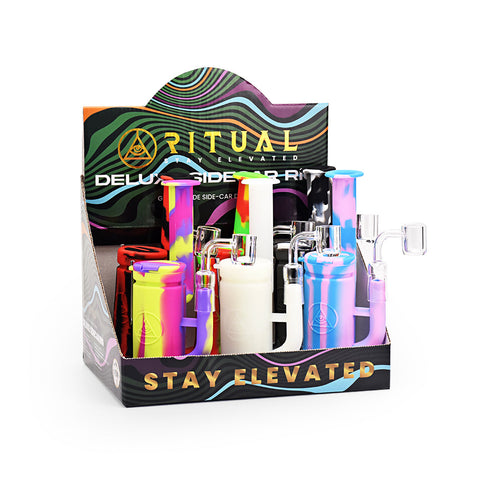 Ritual - 8.5'' Silicone Sidecar Rig - POP of 6
Ritual - Stay Elevated!

Ritual's  8.5'' Sidecar Rig is one of the most popular in our line up!!! This bad ass sidecar rig delivers huge flavor and vapor for your dabs! The durable silicone is virtually indestructible, so much so that we guarantee the silicone parts of each of our Ritual Silicone pipes. The unique air path and function really delivers potent and powerful puffs!!! There's also a storage area on the top of the piece for you to store your oil on the go! How cool?! At Ritual, we stay elevated! 
Features
Platinum Cured Silicone

Designed in USA - Made in China

Comes with Quartz Banger!

8.5" Tall

Easy to Clean

Travel Friendly & Durable AF

Limited Lifetime Warranty (On Silicone)
 Specs

8.5" Tall

Storage Compartment + Dab Tool 

Fully Functional Incycler Perc!

Sold in 6 Pack POP Displays

Comes with Quartz Banger



Available Colors
Rasta, Cotton Candy, Black & White, Miami Sunset, Red & Black, and Titanium White UV